SA CONNECT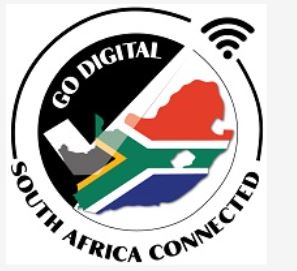 OVERVIEW
SA Connect is the implementation of the national broadband policy that was approved by Cabinet in 2013. SA Connect seeks to meet the technology goals of the National Development Plan of creating an inclusive information society and position the government to play an enabling role in the provision of broadband to the number of underserved district municipalities thereby bridge broadband connectivity gaps. This would be achieved by the pooling of public sector demand and procuring of high-capacity and future-proof network capacity at more affordable rates to address public sector broadband requirements. And in the process stimulating network builds by the network operators by reducing the associated investment risk, by ensuring demand. Due to the magnitude of the project, the programme was divided into two phases, phase one and phase two.
PHASE 1
In terms of phase one, the programme initially aimed at connecting 6135 government facilities, which include all schools, health facilities, post offices, police stations and government offices, in the eight rural district municipalities, to broadband services. Phase one scope was subsequently reduced to 970 government facilities due to budget constraints.
Government has mandated the State Information Technology Agency (SITA) and Broadband Infraco (BBI) to provide the end-to-end broadband services to the 970 government facilities in the eight identified district municipalities, namely (1) Dr Kenneth Kaunda in North West, (2) Thabo Mofutsanyane in Free State, (3) OR Tambo in Eastern Cape, (4) Vhembe in Limpopo, (5) Gert Sibande in Mpumalanga, (6) Pixley ka Seme in Northern Cape, (7) uMgungundlovu and (8) uMzinyathi in KZN. The remaining 5165 facilities that were not provided with broadband service due to the limited budget allocation for the programme will be transferred to phase two of the programme.
Breakdown of Phase 1 connected government facilities: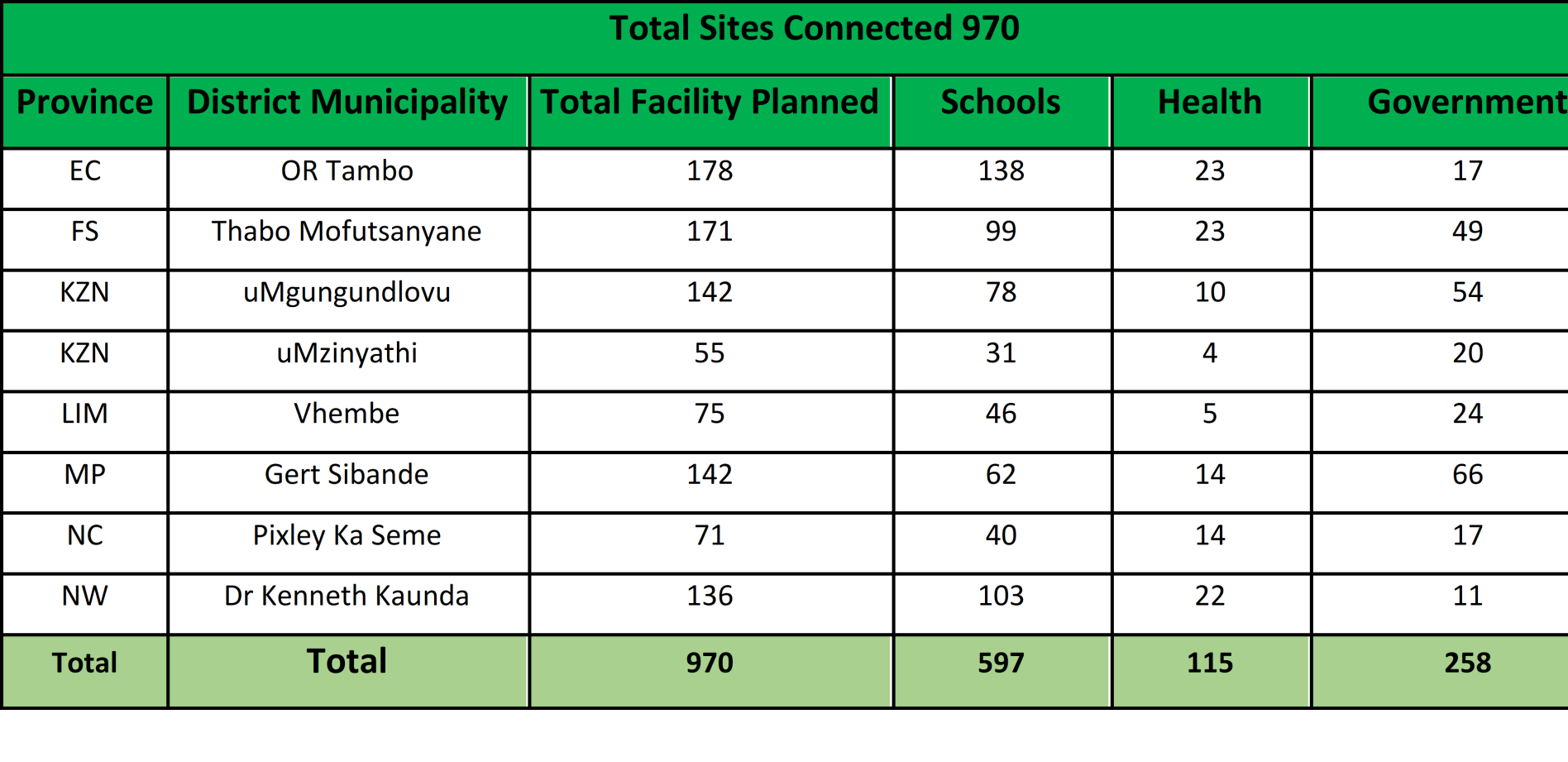 Maps of the 8 District Municipalities: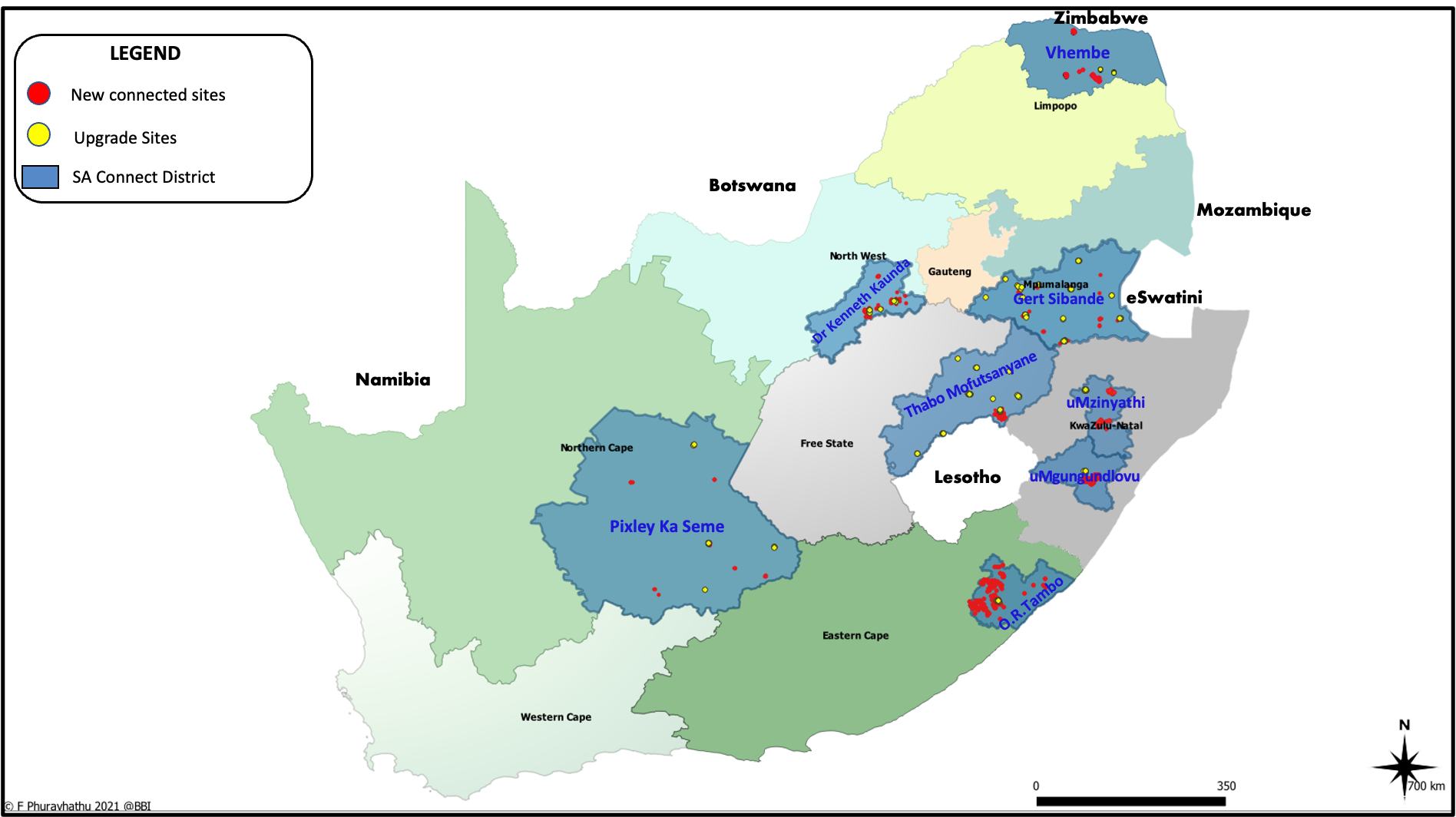 PHASE 2
Phase two of the programme aims to connect in excess of 42 000 government facilities countrywide. A feasibility has been conducted, in collaboration with the Development Bank of Southern Africa (DBSA), to determine cost effective and efficient broadband roll-out models for the phase two. The feasibility study covered the following areas:
A comprehensive options analysis of broadband rollout models that consider other public/private ICT networks and service providers in the country

An institutional framework including governance arrangements to execute the Programme rollout.

A 'Programme approach' to the infrastructure and service rollout per province or region will be considered and a comprehensive range of potential centralised and decentralised solutions shall be evaluated.

The social and economic benefits and costs need to be determined.

A financial model that provides a detailed roll-out costs and indicate when and how much funding would be required from the fiscus and the extent of private sector participation and commercialisation of the programme.

Comprehensive risk analysis and mitigation strategy for the programme rollout including regulatory framework/policies, financial, technology, environmental and socio-economic risks will be authored.
The implementation of phase two will be undertaken upon finalizing its funding.